We think of everything when designing your kitchen, from your lifestyle and dining requirements to your cooking habits and budget.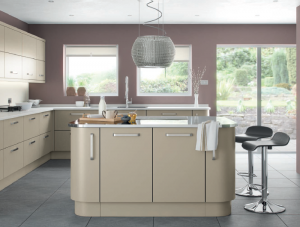 Our experts will look at environmentally friendly and energy saving options, where to organise your recycling, waste storage and mood lighting.
We are skilled at making maximum use of your kitchen space to create an environment that is practical, stunning to look at, hard-wearing and fantastic to spend time in.
The first thing we do is visit your home free of charge. We analyse your space and requirements before compiling an innovative design on CD for you to look at. This is a free service with no obligation for you to go ahead.
If you decide to have your kitchen made, we'll help you fine tune your design down to the last detail. Our two inspiring showrooms and brochures contain hundreds of door styles, colours, materials, fixtures, fittings and appliances for you to use as inspiration. The Kitchen Unit experts can also advise you on items such as exhaust hoods and ventilation fans.
You can choose anything from a modern look to a more traditional style, from bright colours to calmer tones.
Some customers have a fixed idea of what they want, while others need help to make their choices. This is why we tailor our design advice to meet your individual needs.
Send us a brief…